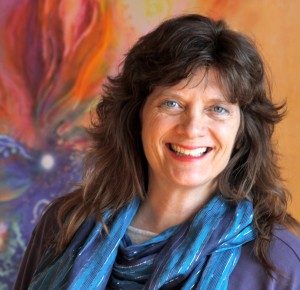 Dana Lynne Andersen
is a multimedia artist, writer, playwright and teacher who has taught and exhibited on three continents. Her paintings have been featured on the covers of books, magazines and calendars. Her artwork, as well as her visionary thinking, has been explored in newspapers, radio and television.
Dana has a 
Master's Degree in Consciousness Studies from John F. Kennedy University.  She 
 is known as a loving and inspiring teacher, a "Vesuvius of creativity" and as an "important visionary for the consciousness community."  She is the founder and creative director of The Academy of Art, Creativity & Consciousness with a center near Assisi, Italy as well as on the Laurelwood campus.  
A pioneer in the field of Art & Consciousness,
 she offers courses in Europe, India and America, as well as a certification program in the Transformative Arts Method.
"Dana is uniquely gifted not only as an artist in her own right, but in her ability to communicate and awaken in others their own creativity.  Totally fun! Unexpected. Deep. Profound. Delightful. Highly recommended for, well, everyone! Creativity is of the soul & awakens soul awareness. And is a pathway to soul awakening. Dana has the roadmap. 'Take me to my creative center.' And she does."  ~ Nayaswami Asha, Spiritual Director of Ananda Palo Alto