First Timers Weekend Meditation Retreat – Dec 2019
With Nayaswamis Daiva and Gangamata
December 6 - 8, 2019
Yoga, Meditation and Community
Experience a relaxing retreat with guided meditation and yoga, explore spiritual principles and feel the joy of community while surrounded in the beauty and peace of our rural retreat center west of Portland, Oregon. First Timers' Weekend is the perfect time to experience a little of everything Ananda offers for a discounted price.
Retreat weekend includes:
Introduction to Ananda Yoga, suitable for all bodies and abilities
Instruction in effective and practical meditation techniques to expand your consciousness
Exploration of universal spiritual principles that can improve every aspect of your life and the concept of Self Realization as taught by Paramhansa Yogananda
Introduction to the Energization Exercises which bring increased energy and vitality
An evening of Kirtan, or Movie
Personal retreat time
An experience of a dynamic spiritual community where every day is a joyful adventure
"Satsanga" – fellowship with truth seekers who are committed to living with higher consciousness and expanded awareness
*To register for the Saturday only portion of the program, please click here.
New to Meditation and Yoga?
While most of our programs are perfect for those with no prior experience, this one is especially designed to introduce newcomers to meditation, yoga, and spiritual community. You'll be amazed at the variety of things you can learn and experience in just one weekend.
Personal Instruction, Guidance and Community
Experience in-depth instruction in meditation, and guided yoga postures. Morning and afternoon yoga and meditation are offered daily in addition to sessions of instruction and discussion. Explore spiritual principles that can help you improve your quality of life. Enjoy a tour of Ananda Laurelwood, sing and play along with a joyful community kirtan, get to know residents and the uplifting music and stories of Ananda.
Our teachers have devoted their lives to life-transforming meditation and yogic principles and will guide you from their own love of the practice and of people.
Vegetarian Retreat Center
Your weekend also includes delicious vegetarian meals, the beautiful, natural surroundings of Laurelwood valley, a boutique with unique gift items and personal support and attention to insure your weekend is enriching and rejuvenating. Relax in our simple yet uplifting guest rooms. Each room includes a personal sink; bathrooms with showers are just down the hall.
Internships or Extended Stays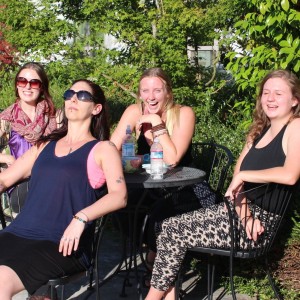 Are you interested in experiencing spiritual living and community for a longer time? Consider our internship program; it starts each month with First Timers' Weekend.
Leader
Nayaswamis Daiva and Gangamata
Nayaswami Daiva has spent his adult life studying, practicing and sharing the timeless teachings of Self-realization, as taught by Paramhansa Yogananda. He has lived within an Ananda community since 1985, enjoying the friendship, support and inspiration found through living with other like-minded individuals. Daiva has spent the years exploring the…
Learn more about Nayaswamis Daiva and Gangamata