Spirit, Art & Nature
With Dana Lynne Andersen, MA
August 4 - 9, 2019
Discover the wisdom of Spirit & Nature!
A Week of Creativity and Communion in NATURE.  Blissful days of painting and learning to co-create with the the Devas and Nature Spirits.  Replenish your body, mind and spirit at the wellspring of silence and solitude.  Discover yourself in the childlike joy of creative PLAY!~
• Learn how to paint with freedom and JOY!
• Learn how to create nature installation art
• Learn how to commune and co-create with the intelligence of Nature.
• Return to the 'Garden of Eden'- experiencing a deep communion the presence of God in Nature.
Unleash your creativity!  No artistic ability is required-  the 'flow painting' technique opens the channel for flowing creative expression.

Nature is a gateway to feeling the presence of God. When we are immersed in a creative flow we can feel God moving through us. And in the stillness of meditation we feel the many qualities of God- peace, love and joy.   Spirit, Art and Nature combines these three powerful vehicles for experiencing God's presence.  Relax deeply into the loving presence of Spirit and Nature.
"We should bathe our spirits in the deep, pure feeling that stirs within us when we gaze on the glories of His creation. This is the way to know God as beauty"    Paramhansa Yogananda
"I now see that the Spirit, alone in a space with Its ever-new joy, has expressed Itself as the vast body of nature. I am the stars, I am the waves, I am the Life of all, I am the laughter within all hearts, I am the smile on the faces of the flowers and in each soul. I am the Wisdom and Power that sustain all creation." Paramhansa Yogananda
* What is nature Art?  Branches, stones, leaves and flowers become the medium- and your sculpture is a communication with the wisdom of Nature.  All children are artists, and in the forest studio all of us are children in the Garden.  
Leader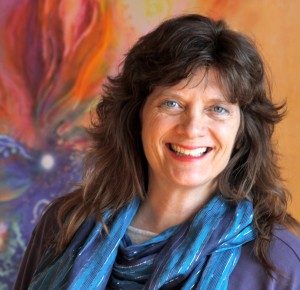 Dana Lynne Andersen, MA
Dana Lynne Andersen is a multimedia artist, writer, playwright and teacher who has taught and exhibited on three continents. Her paintings have been featured on the covers of books, magazines and calendars. Her artwork, as well as her visionary thinking, has been explored in newspapers, radio and television. Dana has a Master's Degree in…
Learn more about Dana Lynne Andersen, MA