Ancient art of Tibetan healing – Lu Jong.
With Natallia Sialishchava
April 19 - 21, 2019
Relax, rejuvenate, and learn the ancient art of Tibetan healing – Lu Jong.
Lu Jong (body transformation in Tibetan) is an ancient practice rooted in Tibetan medicine that combines
form, movement, breath, and awareness in a way that promotes multiple benefits on the physical, mental,
and energetic levels: it nurtures the spine, strengthens immune system, stimulates circulation, improves
mental clarity and focus, releases blockages in the energy body, and activates self-healing capacity.
Originated in Tibet over 8000 years ago, Lu Jong was practiced by the monks meditating in the remote
areas far away from society who depended on this practice to keep their health in prime condition and to
develop a heightened awareness of the true nature of reality. The exercises were collected and organized
into a comprehensive system of body/mind development by the venerable Tulku Lobsang Rinpoche, a
high precious Buddhist master.
This weekend retreat is designed to not only teach you a complete body/mind practice that you can own and
perform independently without further need to rely on teachers or trips to yoga studios, but also help you
unplug, recharge, deepen your connection with yourself and tap into your inner peace.
What is Included:
– Introduction to Tibetan medicine and the theoretical aspects of Lu Jong
– Detailed instruction on the performance of the exercises with a handout to take home
– Daily meditations (optional)
– Vegetarian meals
– An experience of a spiritual conscious living community
– Private retreat time for contemplation or taking short hikes on the retreat's gorgeous 225 acre property
– Easily accessible and suitable for people of all ages and physical abilities. No prior yoga experience is required.
Friday:
4-6pm Room check in
6-7pm Dinner
7-9pm Introductory evening
Saturday:
6:30-8am Meditation (optional)
8-9am Breakfast
9-12pm Class
12-12:45pm Meditation (optional)
12:45-1:30 Lunch
1:30-3:30pm Free time
3:30-6pm Class
6-7pm Dinner
7-8pm Class
Sunday:
8-9am Breakfast
9-11 Class
11-12:45 Free time
12:45- 1:30 Lunch
Leader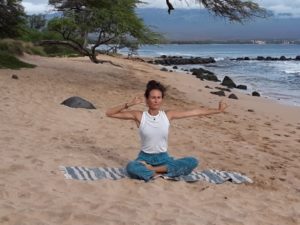 Natallia Sialishchava
Natallia has been dedicated to the spiritual path for over 10 years traveling the world and studying various spiritual traditions to develop a deeper self awareness, understanding of the nature of reality and the hidden forces behind it and to find the tools for transformation and self-realization. She has met…
Learn more about Natallia Sialishchava