Open Your Heart Through Art
With Dana Lynne Andersen, MA
February 12 - 14, 2021
Play with ART to

OPEN YOUR HEART.

 
Discover your own original, authentic self expression and immerse yourself in the magic of FLOW

In this course we will use art and creativity to 'become as little children'. We will  PLAY with art-   clay, collage, paint and pastel- focusing on the process, not the product. Through this creative process we can reach beyond the mind to touch the heart directly.
The weekend will be full of laughter and joy.  Through Intuitive Flow Painting you will find yourself in the zone.  Time stands still  and the soul speaks.
This course counts towards Level One Transformational Art Certification Program.
Immersed in a liberating flow of creativity you will experience the childlike HEART: Spontaneous, authentic, open and trusting, adventurous and HAPPY. Discover the power of Art to heal, open and uplift your heart!
No talent or experience is necessary.  Through decades of pioneering work in the emerging field of Art & Consciousness Dana Lynne Andersen has distilled a proven method for awakening creativity in all people.  Regardless of your age, ability or background you can open the channel of your creative potential.
Vegetarian Retreat Center Your weekend will includes delicious vegetarian meals, the serene and natural surroundings of Laurelwood Valley, a boutique with unique gift items, and personal support and attention to insure your weekend is enriching and rejuvenating. Relax in our simple yet uplifting guest rooms. Each room includes a personal sink; bathrooms with showers are just down the hall.
REGISTER NOW – SPACE AVAILABLE!!
Cancellation Policy
If you cancel your reservation for a Personal Retreat or Ananda Laurelwood sponsored event or program 7 days before your arrival date, we will refund your payment minus a $20 processing fee.
Leader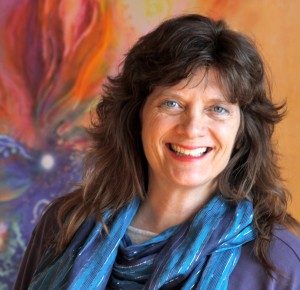 Dana Lynne Andersen, MA
Dana Lynne Andersen is a multimedia artist, writer, playwright and teacher who has taught and exhibited on three continents. Her paintings have been featured on the covers of books, magazines and calendars. Her artwork, as well as her visionary thinking, has been explored in newspapers, radio and television. Dana has a Master's Degree in…
Learn more about Dana Lynne Andersen, MA