Free Your Creative Spirit – Day Guest
With Dana Lynne Andersen, MA
February 18 - 22, 2019
Open the channel to your own unique creative self expression!
Creativity is the language of the Soul! 
When we are in a high vibration creative flow our hearts open and our spirit expands.  Awaken the artist inside you, and use your innate creativity as a powerful tool for personal and spiritual growth. Simple and fun exercises remove the blocks to the free flowing of your creative spirit.
You'll learn how to follow the inner thread of your own intuitive intelligence and discover the thrill of a 'creative investigation' that leads you through multiple modalities of expression. You'll play with paint and pastel, clay and collage, sculpture and song, movement and dance, theater and poetry.  You'll move fluidly through multiple artistic modalities in an exhilarating process of self-exploration and discovery.
No artistic talent or experience is necessary! 
Experience a childlike joy in the vibrant flow of self-expression

Re-connect to your inner life and the vitality of your authentic Self

Discover how to generate inspiration at will

Learn easy and fun practices that jump-start your process

 Learn how to follow your intuitive sensibility in a sustained creative investigation
Leader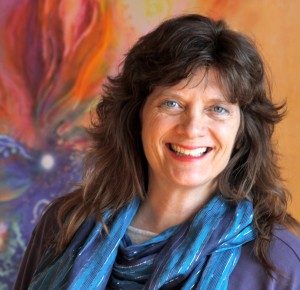 Dana Lynne Andersen, MA
Dana Lynne Andersen is a multimedia artist, writer, playwright and teacher who has taught and exhibited on three continents. Her paintings have been featured on the covers of books, magazines and calendars. Her artwork, as well as her visionary thinking, has been explored in newspapers, radio and television. Dana has a Master's Degree in…
Learn more about Dana Lynne Andersen, MA