Bhagavad Gita Study and Meditation Retreat: May 2019
With Peter Copley and Pooja Copley
May 24 - 26, 2019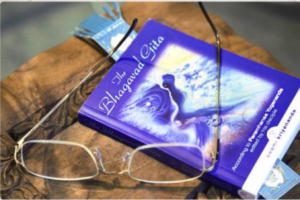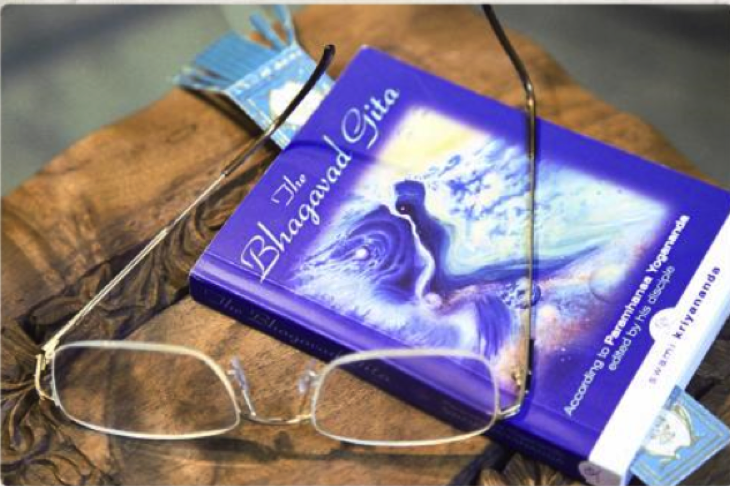 Discover your Divine birthright through Bhagavad Gita study. In the Bhagavad Gita, Sri Krishna (the Divine) is teaching and caring for his devotee Arjuna and giving him darshan (personal appearance). He removes all veils of delusion by explaining different paths of God realization. The love from God and reassurance of the Divine will help you to stop your anxious mind and discover a place of rest in your center as you read through the verses. During the retreat you will enjoy the beauty and serenity at Ananda Center at Laurelwood and get much deserved time for your body and mind to relax.
Retreat weekend* includes:
Study Sanskrit slokas (verses) from the Bhagavad Gita and Paramahansa Yogananda's translation of those slokas into English from Swami Kriyananda's book, "The Bhagavad Gita According to Paramahansa Yogananda".
Practice Ananda Yoga to fill your body and mind with concentration.
Learn meditation techniques that help you to study and understand your reality.
Study the Bhagavad Gita as a method of Self Realization in which the Krishna manifests his Divine appearance to remove the doubts of his devotee.
Practice the Energization Exercises: a gift from Paramahansa Yogananda to draw energy from nature.
Chant to invoke devotion in your heart.
Use your personal retreat time to assimilate the teachings of Bhagavad Gita and gain strength to minimize the stress from everyday life.
Experience an intentional spiritual community and meet friends who have spent some time in self-introspection.
Enjoy "simple living and high thinking"
*To register for the Saturday only portion of the program, please click here.
Start or Enhance your Yoga and Meditation practice
Ananda Yoga is designed to explore the full potential of your body and mind to peace. It is a gentle practice and uses superconscious affirmations combined with yoga asanas (postures). The meditation techniques will help you to center yourself with every breath. It will be an experience that you will cherish in your heart.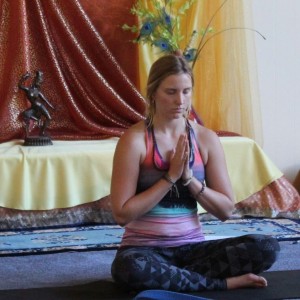 Personal Instruction, Guidance and Community
Experience in-depth instruction in meditation, and guided yoga postures. Morning and afternoon yoga and meditation are offered daily in addition to sessions of instruction and discussion. Explore spiritual principles that can help you improve your quality of life. Enjoy a tour of Ananda Laurelwood, sing and play along with joyful devotional chanting, and get to know residents and the uplifting music and stories of Ananda.
Our teachers have devoted their lives to life-transforming meditation and yogic principles and will guide you from their own love of the practice and of people.
Schedule
Friday :
4:00 – 6:00   Room Check-In, Harmony Hall Foyer
4:45 – 6:00 Energization, yoga and short meditation
6:00 – 7:00 Dinner
7:30 – 9:00 Introductions/Sharing, The Gita Book.
Saturday:
6:30 – 8:00 Energization, yoga, and meditation
8:00 – 8:30 Breakfast in Silence
10:00 –12:15 Gita study
12:15 – 12:45 Meditation with community
12:45- 1:30 Lunch
2:00- 4:00 Gita study from Nayaswami Asha and Swami Kriyananda
4:45 – 6:00 Energization, yoga, and short meditation
6:00 – 7:00 Dinner
7:30 – 9:00 Evening Program
Sunday:
6:30 – 8:00 Energization, yoga, and meditation
8:00 – 9:00 Breakfast
9:00 –10:00 Personal Retreat time
10:00 –12:15 Wrap-up: Bringing Bhagavad Gita to your daily life.
12:15–12:40 Meditation
12:45-1:30 Lunch
Leaders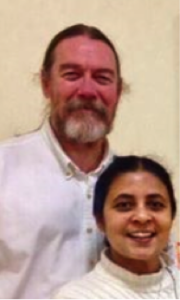 Peter Copley
Peter Copley is a Certified Ananda Meditation and Yoga Teacher. He went to Edger Cayce's ashram as a teenager and ever since was interested in meditation. He studied for his Masters of Divinity in METHESCO and served as an assistant minister at First United Methodist Church in Lancaster, Ohio. He has…
Learn more about Peter Copley
Pooja Copley
Pooja Copley grew up in Kolkata, India. She completed her Bachelors Degree in Physics and Masters in Management from University of Kolkata, India. She felt insecure and disappointed by the temporary nature of career, relationships, and human feelings. She started an active meditation practice in 2005 and went to Sarada Mission in…
Learn more about Pooja Copley