Introduction to the Four Noble Truths
With Peter Copley and Pooja Copley
October 11 - 13, 2019
The Four Noble Truths comprise the essence of the Buddha's teaching. They are incredibly simple to hear, but a lifetime can be spent trying to understand them. However, the way to freedom lies not in a scholarly study of these teachings, but instead in practicing meditation and mindfulness. The reality of suffering draws many people to the Buddha's teachings, but the teachings are not about suffering. During this weekend we will explore the deeper meanings of the Four Noble Truths, the Eightfold Path, and how we can journey further on the Path towards our own personal freedom.
Suffering exists
Suffering arises from attachment to desires
Suffering ceases when attachment to desire ceases
Freedom from suffering is possible by practicing the Eightfold Path"
*To register for the Saturday only portion of the program, please click here.
Leaders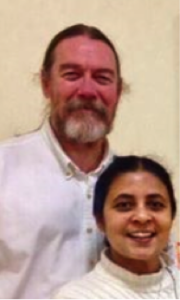 Peter Copley
Peter Copley is a Certified Ananda Meditation and Yoga Teacher. He went to Edger Cayce's ashram as a teenager and ever since was interested in meditation. He studied for his Masters of Divinity in METHESCO and served as an assistant minister at First United Methodist Church in Lancaster, Ohio. He has…
Learn more about Peter Copley
Pooja Copley
Pooja Copley grew up in Kolkata, India. She completed her Bachelors Degree in Physics and Masters in Management from University of Kolkata, India. She felt insecure and disappointed by the temporary nature of career, relationships, and human feelings. She started an active meditation practice in 2005 and went to Sarada Mission in…
Learn more about Pooja Copley