New Year's Creative Vision Quest
With Dana Lynne Andersen, MA
December 28, 2018 - January 1, 2019
Will You Follow the Compass of Your Soul?
This year make your New Year a time of NEW VISION
Discover your highest DESTINY
This unique workshop uses the power of right brain modalities to access the wisdom and creative genius of your own internal compass.
Transform your PAST, PRESENT & FUTURE
• Review and Release the PAST
• Come into the PRESENT- the center of your own Soul where you can experience the new energies and visions that are emerging from deep within.
& CRYSTALLIZE your positive FUTURE with a unique Life Map, Vision Board, and New Year's Ceremony of INITIATION
• Receive support for your success with potent spiritual techniques and concrete strategies.
It's time to DREAM BIG!
Discover the synergy between what the world needs and what you are here to give.
• Journey from scattered desires to focused vision.
• Recalibrate to the DIVINE BLUEPRINT of your own Soul's unique mission and purpose.
• Immerse yourself in uplifting and healing vibrations that bring Love and JOY into your field.
SCHEDULE:
THURSDAY  December 27  Arrive early and settle-in, if you like!
7am            Group Morning Meditation (optional)
10am          ORIENTATION & OVERVIEW
11am           REVIEWING and RELEASING the PAST
12:15pm     Group Afternoon Meditation (optional)
3pm             CHANGE YOUR BRAIN
                     ~ Crucial information from the field of brain science
                     ~ Learn how to remold your plastic brain.
4:30pm       CHANGE YOUR WORLD
                    ~ Powerful techniques from the science of yoga conjoin
                     cutting-edge knowledge from quantum physics
5:30pm       CLEARING THE FIELD
                    ~ Guided Moving Meditation & Creative Process to clean your energy body
                      and clear obstacles from the field of possibility.
6:00-6:45pm        Dinner
8:00-9pm   A CRYSTAL BOWL CEREMONY for clearing the past.
SATURDAY December 29
7am            Group Morning Meditation (optional)
8am            Breakfast
10am          Recovering your TRUE DESIRES
                     ~ Letting go of distracting 'false desires' from media, culture & family
                     ~ discovering the authentic desires that are signals of our Dharma.
                     Knowing your TRUE PURPOSE
                    ~ 'Drawing from the Well' – A creative process with guided moving meditation, chalk & oil  pastel.
12:15pm       Group Afternoon Meditation (optional)
3pm          Tuning into the QUANTUM FIELD
                     ~ Accessing the wisdom of your own soul.
                     Guided Visioning Process includes creating your own unique LIFE MAP
6:00-6:45pm        Dinner
8:00pm        DREAM POWER  Drawing from daydreams, night dreams and intuitive revelation we will gather the dreams that are speaking to your soul.
SUNDAY December 30
7am             Group Morning Meditation (optional)
10am          Discovering EMERGENT NEW ENERGIES
                     MASKMAKING! ~ An actual casting of your face becomes
                     an invocation for the emergent energies that are ripe to be revealed.
12:15            Group Afternoon Meditation (optional)
12:45-1:30pm      Lunch
3-6pm         Embellishing an exploring the message of your mask
6:00-6:45pm        Dinner
8:00pm       Circle of the Masks ~ SOUL REVELATIONS
7am            Group Morning Meditation (optional)
8am           Breakfast
10am         DISCOVERING YOUR DESTINY
                   ~ Creating an activating your own SOUL COLLAGE VISION BOARD
12:15            Group Afternoon Meditation (optional)
3pm           INTERVIEW with YOUR FUTURE
                    ~ using theatrical play to experience your own future
6:00-6:45pm        Dinner
10pm         Crystalizing your NEW DIRECTION in a rite of passage ritual
12pm         Initiation of TRANSFORMATION
7am            Group Morning Meditation (optional)
8am           Breakfast
10am         Sharing Circle
11am          CLOSING CEREMONY
12:15          Group Afternoon Meditation (optional)
12:45-1:30pm    CELEBRATION Lunch
http://awakeningartsacademy.com/events/new-years-creative-vision-quest/?fbclid=IwAR3ewJJOJrS16MhMCSN-WDonYutdPjU96B3FxWpneRenEwjIcWrhAxm7rbA


Leader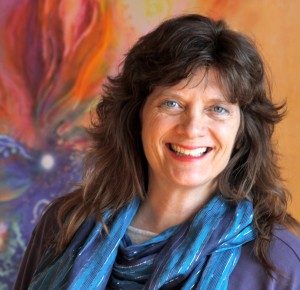 Dana Lynne Andersen, MA
Dana Lynne Andersen is a multimedia artist, writer, playwright and teacher who has taught and exhibited on three continents. Her paintings have been featured on the covers of books, magazines and calendars. Her artwork, as well as her visionary thinking, has been explored in newspapers, radio and television. Dana has a Master's Degree in…
Learn more about Dana Lynne Andersen, MA