BEGINNING IMPROVISATION FOR ALL PIANISTS
With Donn Rochlin
November 10, 2018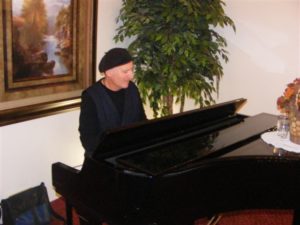 If you are a classically trained pianist, or aspiring to play piano with more  freedom, and creativity, this workshop is for you.
Improvisation is a spiritual practice: It asks you to have faith, to relax and receive,  to become childlike and spontaneous,  not to judge any of it.
No matter what type of music you're into, learning the fundamentals of improvisation will allow you to play with more fun and authentic expression.  Enjoy a day of immersion into the fun and freedom of musical expression that will take you to another level of enjoyment and creativity at the piano.
"Don't be a psychological antique, try to be ever new unto yourself"  Swami Kriyananda
10 a.m. to 4 p.m. Saturday November 10th.   Cost of $125 (includes vegetarian lunch)
In this one day workshop, you will learn:
The 12 bar Blues Form ( essential to gospel, jazz & blues styles)
The 11 v 1 progression ( the fabric of all Jazz standards)
Extended chords ( " Jazz chords")
Inversions and chord voicing's
How to improvise using "Modes"
How to spontaneously create interesting motifs
Solo and ensemble improvisation styles
How to overcome performance anxiety and perfectionism
(prerequisite to taking this workshop)
How to play a major chord, & a major scale.
** If you would like to stay overnight at the Laurelwood Retreat Center either before or after this one day retreat,                                           you can go here and register. This is a separate registration and cost.
Leader
Donn Rochlin
Donn Rochlin is a composer, pianist, and educator. He has been a featured presenter at the C.M.T.A. O.M.T.A. and the Western States Association of Music Therapist. In addition to touring over 65 cities presenting his "Just For Fun" piano workshops. Donn offers private lessons, a variety of workshops and, maintains…
Learn more about Donn Rochlin