Labor Day Weekend 2018: Celebrating the Spirit of Creative Enterprise
Flexible Dates
Celebrating the Spirit of Community & Creative Enterprise
Our 8th Annual Labor Day Weekend Celebration!
This uplifting retreat and family fun weekend is open to all, newcomers (like our First Timers Weekend) and long-time devotees. A great way to experience and enjoy Ananda, see what Laurelwood has to offer and be in the company and satsang of joyful truth seekers. We will be celebrating our many new creative enterprises that are becoming manifest in this year. They are as follows:
The Village at Ananda Laurelwood
The Center at Ananda Laurelwood
Cities of Light Residential Program
Ananda House, LLC
Awakening Arts Academy
Awaken Gardens
Dwapara Yoga & Meditation, LLC
Green Hill Market and Espresso
Laurelwood Builders Guild, LLC
Yogananda Gardens of the Northwest
Highlights of the weekend celebration to include:
Daily meditation and yoga
Inspiring talks from the new creative enterprise leaders
Shared visioning
Joyful Seva (service) opportunities
Kirtan with our Ananda Laurelwood kirtan group and special guests
Purification and Sunday Service at Laurelwood
Tours of the campus, Yogananda Gardens, Ananda House, and new community
Delicious vegetarian meals
Entertainment
Volleyball/Team Building
Hiking
Garden Visits
Satsang, friendship and joy
Ananda Laurelwood welcomes all to celebrate with us. Stay overnight or come for just the day. To register and pay for meals a la carte click here.
Labor Day Celebration Schedule
Friday, August 31

3:30 pm – Check in
4:30 – 6:00 pm:  Ananda Yoga sadhana (Movement Room in Expansion Hall)
7:30 pm:  Introductory & Welcome Evening (Meditation Room in Expansion Hall)
Saturday, Sept 1

6 am:   Energization Exercises (Front Lawn of Contentment)
6:30 am – 8:00 am:   Long Meditation (Meditation Room in Expansion Hall)
8:00 am – 8:30 am:   Breakfast in Silence (Green Hill Cafe)
8:30 am – 9:00 am:   Breakfast continues (Green Hill Cafe)
9:30 am – 12:00 pm:  Sharing our Creative Enterprises (Meditation Room in Expansion Hall)
12:00 pm – 12:45 pm:   Energization and Meditation (Meditation Room in Expansion Hall)
12:45 pm – 1:30 pm:   Lunch (Green Hill Cafe)
4:30 pm 6:00 pm:    Ananda Yoga Sadhana (Movement Room in Expansion Hall)
6:00 pm – 6:45 pm: Dinner (Green Hill Cafe)
7:30 pm – 9:00 pm:   Kirtan under the stars! (Yogananda Gardens)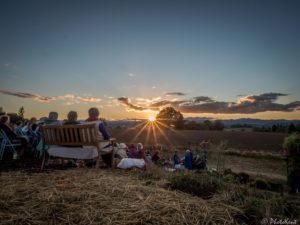 Sunday, September 2

6 am:   Energization Exercises (Front Lawn of Contentment)
6:30 am – 8:00 am:   Long Meditation (Meditation Room in Expansion Hall)
8:00 am – 8:30 am:   Breakfast in Silence (Green Hill Cafe)
8:30 am – 9:00 am:   Breakfast continues (Green Hill Cafe)
10:00 am -10:45 am:   Purification Ceremony (Meditation Room in Expansion Hall)
11:00 am -12:30 pm:   Festival of Light Service (Meditation Room in Expansion Hall)
12:45 – 1:30 pm:   Lunch (Green Hill Cafe)
2:00 pm – 6:00 pm:    Afternoon activities (Volleyball, Team Building, Tours of Ananda House and/or Yogananda Gardens, etc)
6:00 pm – 7:00 pm:   Picnic-style light dinner (Green Hill Café)
7:30 pm – 9:00 pm:   Movie or Swamiji reading PG Wodehouse
Monday, September 3
6 am:   Energization Exercises
6:30 am – 8:00 am:   Long Meditation (Meditation Room in Expansion Hall)
8:00 am – 9:00 am:    Breakfast (Green Hill Cafe)
10:00 am – 11:00 am:   Closing Circle, Go with Love (AUM Pavilion)
12:15 pm:  Midday Meditation
12:45 pm – 1:30 pm:   Lunch (Green Hill Cafe)