Dreams and the Individuating Soul
With Geri Shubatani Grubbs, PhD
October 26 - 28, 2018
"Everything living dreams of individuation, for everything strives towards its own wholeness – and the greatest possible actualization of the Self is the aim of life." — Carl Jung
Sponsored by C. G. Jung Inst. of Seattle – 10 CEU's for Mental Health Professionals
This course has been approved for 10 CEU's by the NASW Washington State Chapter.
Licensed Social Workers, Marriage and Family Therapists and Mental Health Counselors are eligible.
Provider number is 1975-172
In this workshop, you will:
learn about C. G. Jung's meaning of "individuation" and the life cycles that are a part of it and our soul callings.
explore the various dream images that relate to these life cycles and what they may be communicating.
learn how to use active imagination techniques, such as journaling, art, and dream sharing, in working personally and dynamically with images expressed in our dreams.
Explore, through guided imagery, journaling, art, and group dream sharing, symbols that come in our dreams during major life transitions. Retreat as you earn continuing ed. credit.
Referred to as the "individuation process," or Self-realization, it is the ego's constant striving to be in relationship with its true essence, that which is inherent in the greater Self. Archetypal images and symbols express this essence or potential and are revealed to us in our nightly dreams, fantasies and spontaneous expressions.
The value of these images, however, are gained only when we are willing to engage with them emotionally and by asking ourselves: "What is this leading to? Where is its goal?" Such a process of inquiry enriches our lives, expands our conscious awareness and provides meaning to a life that may seem painful or unfulfilling.
Schedule
Friday
4:00-6:00 pm Room check-in
4:30-6:00 pm Yoga and meditation (opt.)
6:00-6:45 pm Dinner at Green Hill Café
7:00-9:00pm Introductions and presentation of the individuation process and life cycle dynamics
Saturday
8:00-8:45 am Breakfast at Green Hill Café
9:30 am-12:00 pm Presentation and discussion of dreams and symbols of transformation
12:15-12:45 pm Meditation (opt.)
12:45-1:30 pm Lunch in Green Hill Café
2:00-4:00 pm Journaling, art and other forms of active imagination – experiential in art room
4:30-6:00 pm Yoga and meditation (opt.)
6:00-6:45 pm Dinner at Green Hill Café
7:00-9:00pm Group dream sharing at the Shubatani House
Sunday
8:00-9:00 am Breakfast in Green Hill Café
9:30-11:30 am, Guided imagery, journaling and conclusion
12:15-12:45 pm Meditation (opt.)
12:45-1:15 pm Lunch at Green Hill Café
Leader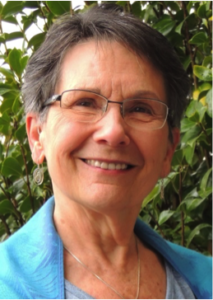 Geri Shubatani Grubbs, PhD
Geri (Shubatani) Grubbs, Ph.D., LCSW, is a psychotherapist and Jungian Analyst practicing in Woodinville, WA, and Gaston, OR.   She has been practicing depth psychology since 1987 and is an experienced workshop and seminar leader.  Geri is a graduate of the C. G. Jung Institute, Zurich, and a member of the C.…
Learn more about Geri Shubatani Grubbs, PhD