International Day of Yoga Retreat
With Nayaswamis Daiva and Gangamata
November 29 - 30, 2017
Join us in the planning of International Day of Yoga 2018.
Wednesday, November 29 all-day, and Thursday morning, Nov. 30
Start Wednesday at 9:30 am, lunch provided, the afternoon session will end around 4:30. Dinner is at 6 and we will have a relaxed and informal evening together. Thursday breakfast in silence and morning wrap-up meeting at 9:30, ending with Thursday lunch.
Morning, noon and pre-dinner sadhanas are available for those who wish to participate. 
At Ananda Laurelwood in Gaston Oregon.
Come for the day, or enjoy a stay overnight with us – donation basis, meals included
By Invitation Only.     Please email if interested in attending.
We are the Directors of Ananda in the Portland area, part of the worldwide Ananda movement and the Ananda Yoga ® asana style.

We have rented Pioneer Courthouse Square for the International Day of Yoga on June 21st, 2018 in keeping with the tradition of this location for the 2015 and 2016 IDoY Portland.

Join us in the planning of International Day of Yoga 2018.

 

We hope to have as many Yoga and Spiritual leaders and groups come together for IDoY to truly make this a powerful gesture and capture the hearts, minds and imaginations of the millions of people in our neighborhood.  We ourselves will likely have one to two hundred people from around the world arriving to support this weekend vision. Ananda's commitment is to help people have a deeper experience of themselves and therefore to uplift consciousness and the planet through sharing the teachings of Yoga.

Far more than any organization this is a global movement that is increasingly needed as the years pass. And while the understanding and spread of Yoga is increasing on the planet, there is still so much to be done.

 

We invite you to join us at the beautiful and expansive Ananda Center at Laurelwood in Gaston Oregon to explore what the yoga community can create this year for an inspirational IDoY. Every group and person who gets involved will add that much more to the story that is trying to be told and the inspiration that needs to be shared.

Thank you for your time and consideration. We look forward to coming together in this way. Let's use the gifts we've been given to continue to bless and uplift the world together.

Nayaswamis Daiva and Gangamata

Directors of Ananda Portland and Ananda Laurelwood, Gaston, OR.
Leader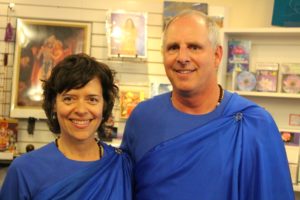 Nayaswamis Daiva and Gangamata
Nayaswami Daiva has spent his adult life studying, practicing and sharing the timeless teachings of Self-realization, as taught by Paramhansa Yogananda. He has lived within an Ananda community since 1985, enjoying the friendship, support and inspiration found through living with other like-minded individuals. Daiva has spent the years exploring the…
Learn more about Nayaswamis Daiva and Gangamata