Energy and Magnetism – Part of the Raja Yoga Series
With Nayaswamis Daiva and Gangamata
July 6 - 8, 2018
The desire for success is universal – we all seek the fulfillment of our efforts.
There are basic governing rules underlying success in any endeavor, which we will explore in this vitalizing retreat. In addition
In addition, we look at the underlying yearnings of our hearts and souls to be sure that our efforts will yield the fulfillments we are truly seeking.
We will work with the materials:
Change Your Magnetism, Change Your Life by Naidhruva Rush
Money Magnetism by J. Donald Walters
Reference material: Material Success Through Yogic Principles study course by Swami Kriyananda
Leader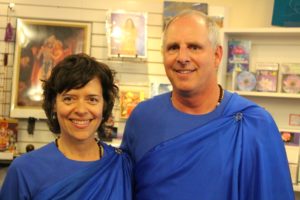 Nayaswamis Daiva and Gangamata
Nayaswami Daiva has spent his adult life studying, practicing and sharing the timeless teachings of Self-realization, as taught by Paramhansa Yogananda. He has lived within an Ananda community since 1985, enjoying the friendship, support and inspiration found through living with other like-minded individuals. Daiva has spent the years exploring the…
Learn more about Nayaswamis Daiva and Gangamata