Affirmations Retreat: Change Your Thoughts, Change Your Life and the World – Part of the Raja Yoga Series
With Nayaswamis Daiva and Gangamata
May 6 - 8, 2018
"If you always think what you always thought, you'll always get what you always got."
This bit of doggerel holds profound wisdom. Yogananda noted that "Thoughts are universally, and not individually, rooted." Our minds are like radios that can tune into any station. The "long-playing loop tape" in the subconscious mind magnetizes our experience of life.
The realities we live in influence not only ourselves, but all those around us. When we learn to re-orient (and re-habituate) our mental processes, we gain control of ourselves and harvest more meaning and joy from life.
This retreat uses the teachings and affirmations of Paramhansa Yogananda, author of Autobiography of a Yogi, and Swami Kriyananda, founder of Ananda.
Leader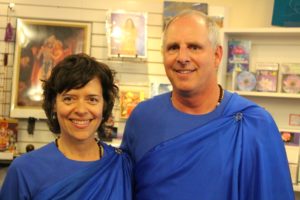 Nayaswamis Daiva and Gangamata
Nayaswami Daiva has spent his adult life studying, practicing and sharing the timeless teachings of Self-realization, as taught by Paramhansa Yogananda. He has lived within an Ananda community since 1985, enjoying the friendship, support and inspiration found through living with other like-minded individuals. Daiva has spent the years exploring the…
Learn more about Nayaswamis Daiva and Gangamata