Patanjali's Ashtanga Yoga – Essence of the Raja Yoga Series
With Nayaswamis Daiva and Gangamata
March 2 - 4, 2018
Patanjali's Eightfold Path:Yamas/Niyamas
Patanjali's Ashtanga Yoga    Learn the steps of spiritual development that everyone must take on the path to enlightenment, including right action, concentration, and absorption in the infinite Self.
Yama    Explore the meaning of self-control. How can we use it to achieve our highest potential?
Niyama    Develop a deeper understanding of qualities such as contentment and self-study. Learn how to integrate them into your lifestyle.
Leader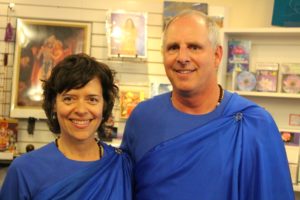 Nayaswamis Daiva and Gangamata
Nayaswami Daiva has spent his adult life studying, practicing and sharing the timeless teachings of Self-realization, as taught by Paramhansa Yogananda. He has lived within an Ananda community since 1985, enjoying the friendship, support and inspiration found through living with other like-minded individuals. Daiva has spent the years exploring the…
Learn more about Nayaswamis Daiva and Gangamata