Art & Science of Raja Yoga – Weeklong Intensive 2018
With Nayaswamis Daiva and Gangamata
January 21 - 27, 2018
The Art and Science of Raja Yoga
Renew yourself!
Find the joy you seek…Along with growing sense of well-being!
The Art and Science of Raja Yoga – the encyclopedic course on the yoga teachings of Paramhansa Yogananda –
Raja Yoga covers all aspects of yoga, but the emphasis is on mental and spiritual development. Raja Yoga emphasizes the benefits of meditation for spiritual Self-realization and the expansion of consciousness.
Learn:
The power of concentration
The joy of working with your own life-force
How to harmonize with life
The ability to change your thoughts to experience more peace and well-being
What is happening in the world around us – the longer view
What is yoga, and how can it help you and those around you
How to be more effective in everything you seek to do
How to be more calm, clear and contented
This is a one-week immersion into the experience and understanding of Raja Yoga. In the supportive and beautiful environment of Ananda Center at Laurelwood, you have the opportunity to explore your own understanding of life, see new possibilities and develop new habits that will bring you well-being and the experience of wholeness from within.
Provisional Schedule:
Sunday
Dinner 6pm
Introduction 7pm
Evening Meditation 9pm (optional)
Monday-Friday
Yoga and Meditation Practices 6-8am
Breakfast 8am
Class 10am-Noon
Noon Meditation
Lunch 12:45am
Afternoon Class or Activity 2 pm
Yoga and Meditation Practices 4:30-6pm
Dinner 6pm
Evening Program 7pm
Evening Chanting and Meditation 9pm
Saturday
Yoga and Meditation Practices 6-8am
Breakfast 8am
Closing 10am-Noon
Noon Meditation
Lunch 12:45am
"This is truly a life-changing program. I have more understanding about life and how to find enduring happiness and wholeness than I ever dreamed possible. Thank you for making this possible."
Many students find themselves taking the program over and over as the years pass, as there is so much meaning and understanding available. A deep discount is available for those returning to the program. We look forward to sharing this with you.
Blessings,
Nayaswamis Daiva and Gangamata
How to apply yogic principles to everyday life
How can you find lasting happiness? Remain calm in the face of challenges? Maintain physical and emotional well-being? The science of yoga is ancient, proven, and universally true. The art of applying these principles to daily life is challenging, endlessly inspiring and the purpose behind our existence. You will learn how to apply the ancient principles of "Raja" (royal) yoga to every aspect of your life: physical, mental, emotional, and spiritual. The course is filled with tools to help you deal with real-life situations in a way that reflects your highest self. The first two techniques in the system of Kriya Yoga, as taught by Paramhansa Yogananda, will be taught and explored in depth: Hong-Sau, an ancient technique of concentration, and Energization, a technique for increasing conscious awareness and control of divine life force.
About the Text Materials:
The timeless and definitive text, The Art and Science of Raja Yoga, by Swami Kriyananda, is used as a guide for discussions and is required for all students. Additional texts are: Essence of Self-Realization, The New Path, Scientific Healing Affirmations and Autobiography of a Yogi. All texts are available for sale at the Ananda Temple Boutique in Beaverton or the Ananda Laurelwood boutique in Gaston.
SAVE: 20% off on Opening Night, applies to all needed texts for the Art and Science of Raja Yoga.
Leader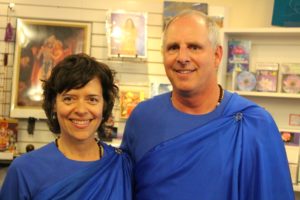 Nayaswamis Daiva and Gangamata
Nayaswami Daiva has spent his adult life studying, practicing and sharing the timeless teachings of Self-realization, as taught by Paramhansa Yogananda. He has lived within an Ananda community since 1985, enjoying the friendship, support and inspiration found through living with other like-minded individuals. Daiva has spent the years exploring the…
Learn more about Nayaswamis Daiva and Gangamata