Painting from the Heart and Soul
With Dana Lynne Andersen, MA
February 21 - 25, 2018
Unleash the Joy and Passion of your own Unique Expression
Discover the bliss of losing yourself in the vibrant flow of creative energy and creative process.  Register by Jan 15 to receive $20 off! This full-immersion 'energy flow' painting workshop retreat near a Portland, Oregon hosted by Ananda Laurelwood, a community founded on the teachings of Paramhansa Yogananda author of spiritual bestseller Autobiography of a Yogi. This awakening retreat gives you the freedom to express your inner Self without self-consciousness or self-criticism. Proven techniques will overcome blocks and open the doorway to inspiration.  Learn how to cultivate true originality and spontaneity of expression.  When you paint from the HEART and SOUL you access the deepest wellspring of your own inner wisdom just like during quiet meditation.
Discover the PURE JOY of childlike spontaneous creative expression
Overcome blocks to your own authentic artistic voice and vision
Learn practical techniques for sparking an endless FLOW of CREATIVITY

Cultivate deep connection to the inner world of your SOUL
For artists and non-artists alike.  Absolutely no talent or experience is required.  "Non- Artists" will unleash the creator within- experiencing the delight of their own unique expression.   Practicing artists will discover an inexhaustible font of inspiration to use in their professions.
ALL are guaranteed to experience the bliss of being absorbed in the flow of creative process.

Our unique SOUL CENTERED approach will enliven you- sparking the creative spirit in all aspects of your life.  Past participants have reported breakthroughs in their personal lives as well as in other creative endeavors.
"Thank you so much for such a beautiful painting experience- it opened the channel for my writing.  I went home after your course and easily finished a book I had been working on for years!  It is now published.  Thank you again for a work that so profoundly  stirs the creative spirit…I am enclosing a copy"   LWS Australia
Awaken creativity during this creativity course and learn to paint from the heart and soul. For artists and non-artists alike this creative self expression retreat gives you the freedom to express your inner Self without self-criticism.
You will experience:
Spiritual exercises for opening the doorway to inspiration
Overcoming your blocks to creative expression
Energy Painting from a higher state of consciousness
Energy flow painting
Techniques for cultivating creativity and soul intuition
Techniques for spontaneity of expression through expressive arts
Development of your own original artistic style through intuitive painting
Clarity of vision and fluidity of expression.
Leader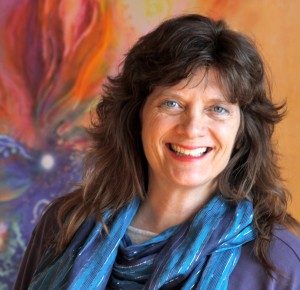 Dana Lynne Andersen, MA
Dana Lynne Andersen is a multimedia artist, writer, playwright and teacher who has taught and exhibited on three continents. Her paintings have been featured on the covers of books, magazines and calendars. Her artwork, as well as her visionary thinking, has been explored in newspapers, radio and television. Dana has a Master's Degree in…
Learn more about Dana Lynne Andersen, MA