Creator in Residence Program
With Dana Lynne Andersen, MA
February 12 - March 12, 2021
Our CREATOR in RESIDENCE program offers a unique opportunity for self exploration, creative unfoldment and soul replenishment. No talent or experience is necessary. Our unique 'soul centered' approach focuses on the transformative process of creativity. We believe every human being is an artist, and that engaging the creative process awakens our joy, vitality and creative genius.
A 'Creator in Residence' is someone who is exploring their creative unfoldment. We offer a nurturing space with loving support so you can take the time to delve into your inner world and bring forth your own unique artistic expression. Whether you are an emerging artist or an adventurous spirit, this is a wonderful opportunity to spread your wings and fly!
Residencies are an opportunity for deep immersion into your own creative world- with nurturing support for your soul's journey.  
This program is gently guided by faculty from the Academy. This includes classes, morning circles, creativity catalysts, guided studio time, personal attention and most art materials- paints, brushes, magazines, scissors, glue, glitter etc.
Enjoy the pastoral beauty of the Oregon countryside with easy access to one of America's most culturally alive cities.
Our beautiful light filled studio is located on a campus dedicated to 'Education for Higher Consciousness'. In addition to the space equipped for visual arts, there are also adjoining spaces for movement, music and theater- including a performance auditorium.
Room and board are included in the program fee. The Academy has its own facility on the campus of the Ananda Laurelwood retreat center and spiritual community. You can choose your level of involvement in this 'living laboratory' of intentional spiritual community based on the universal teachings of Yoga as taught by Paramahansa Yogananda, author of Autobiography of a Yogi. The campus includes beautiful views of rolling hills, nature trails, gardens and orchards, chickens and llamas- life in the country!
Leader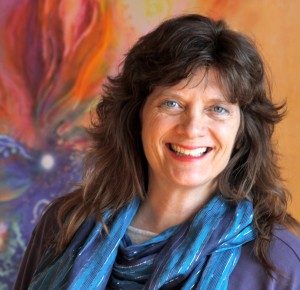 Dana Lynne Andersen, MA
Dana Lynne Andersen is a multimedia artist, writer, playwright and teacher who has taught and exhibited on three continents. Her paintings have been featured on the covers of books, magazines and calendars. Her artwork, as well as her visionary thinking, has been explored in newspapers, radio and television. Dana has a Master's Degree in…
Learn more about Dana Lynne Andersen, MA