Awakening Arts Academy offers lively weekend workshops and relaxing retreats that use all modalities of creative self expression (intuitive painting, movement & somatic awareness, clay, collage, poetry & pastel, writing, mask-making, theater, sacred music and dance, sound healing, etc.) as vehicles for self discovery, healing, personal growth and spiritual awakening.
 Join Dana for a Creator in Residence Program in Ananda Laurelwood in Feb/March 2020!! Click here!
Dana Lynne Andersen, Renowned Spiritual Artist
Dana is the founder of Awakening Arts Academy with centers in Assisi, Italy and at the Ananda Center at Laurelwood near Portland, Oregon.
We use creative process to access our authentic self expression, our soul intuition and 'whole brain' creative genius.  Simple, joyful and profound, no talent or experience is necessary– and once your creative channel is open you can apply your inspiration to all aspects of life.
Our light and spacious arts studio is nestled in the beauty of nature.
Laurelwood campus offers a peaceful rural setting with daily yoga and meditation, healthy vegetarian food, lovely gardens, and the living laboratory of an intentional spiritual community (based on the universal teachings of Paramhansa Yogananda, author of the spiritual classic Autobiography of a Yogi).  Your inward journey will be uplifted by the high vibration and joyful energy on this 'campus of higher consciousness'.
"Art has the power to transform culture and consciousness.  At Awakening Arts Academy, we engage all modalities of the Arts as vehicles to uplift the human spirit and to awaken higher consciousness." Dana Lynne Andersen
About Dana Lynne Andersen
About Awakening Arts

Academy website here.
If you're interested in the Transformative Arts Certificate Program, please learn more about it here.
Articles
The world is on the verge of a cultural transformation. Read more about this shift:
"A New Zeitgeist" Article published in Veritas Magazine
The Role of the Artist in Watershed Times
"Our culture pursues the 'cutting edge' – the endless periphery. Awakening Arts pursues the Eternal Radiance 'whose center is everywhere, circumference nowhere."  Dana Lynne Andersen
Upcoming Awakening Arts Programs
Open Dates
Ancient Future: Seeds of a New Civilization An Original Performance Piece created for a conference on Climate Change and Consciousness ANCIENT FUTURE will be performed at Universal Hall, in the Findhorn Community in Scotland on April 21.  Ananda Center at Laurelwood is an educational non-profit (501 (c) 3). Awakening Arts…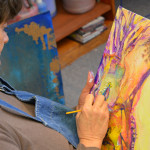 With Dana Lynne Andersen, MA
February 14 - March 16, 2020
Our CREATOR in RESIDENCE program offers a unique opportunity for self exploration, creative unfoldment and soul replenishment. No talent or experience is necessary. […]
Past Awakening Arts Programs
Healing Journey: An Inner Journey of Self Discovery & Transformation – May 2017
Soul Wisdom Intuitive Painting Workshop & Retreat – April 2017
Art, Rebirth, and Transformation Workshop – April 2017
Journey of the Soul Retreat: Spirit Vision, Soul Collage, and Dreamwork – April 2017
The Flowering of Children's Natural Creativity – March 2017
Art as Spiritual Practice – April 2016
Spirit & Soul Collage Weekend Workshop – March 2016