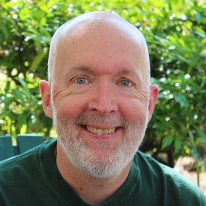 David has been on a spiritual path since several awakening experiences in his teenage years. While still in high school, he was ordained as an Elder of his local Presbyterian church, and served as a representative to the Presbytery and Synod.
In college, he pursued a B.A. degree in Philosophy, with a special interest on Eastern religions. He also began to study meditation: learning taiji, qigong and yoga and living in a Zen Buddhist monastery. Later, while working and raising a family, he continued to study and practice different techniques and traditions of meditation.
David is a certified Ananda Meditation teacher and also teaches taiji and qigong. When he's not teaching, he serves as the Director of Group Retreats & Guest Services at Ananda Laurelwood. David is calm, joyful and a wonderful example of willingness to serve for everyone around him.
Events with David Seybert