Kriya Yoga Weekend Retreat
With Nayaswamis Daiva and Gangamata
March 3 - 5, 2017
A weekend of practice, instruction, inspiration and joy – immersed in the blessings of Kriya Yoga. Guided by Kriyacharyas Gangamata and Daiva
We invite all those who have been initiated into Kriya Yoga through Ananda to join in this special weekend. See the schedule of events below.  The price is all-inclusive.  You may stay overnight and take your meals at Laurelwood for no additional charge.
Pre-registration is required – please indicate in the "Comments" section of the registration which nights and/or meals you plan to be at Laurelwood.
If you are only attending the kriya initiation (and not participating in the weekend program, eating meals or staying overnight), you can register for free by following this link:
http://anandalaurelwood.org/retreats/100350/kriya-initiation-ceremony/
The highest practice of meditation offered by Paramhansa Yogananda was Kriya Yoga. He called it the "airplane route to Divine Bliss." He also encouraged those who have the practice to never miss an opportunity to refine their practice and understanding.
Weekend Schedule
Friday –
4:00 – 6:00 pm       Check-in (Overnight guests only)
6:00 – 7:00              Dinner
7:30 – 9:00               Satsang – Kriya Yoga, Spiritual Path for Today's Needs (Open to All)
Saturday –
7:00 -10:00 am     Kriya Meditation  (open to Kriyabans only)
10:00 -11:00          Breakfast in silence
11:00 – 12:30          Class – Deepening the Practice of Kriya Yoga (open to Kriyabans only)
12:30 – 1:00 pm    Meditation
1:00 – 2:00             Lunch in silence
2:00 – 5:00            Quiet afternoon
5:00 – 6:00            Meditation in Anteroom (open to Kriyabans only)
6:00 – 8:00            Kriya Initiation (open to Kriyabans only)
8:30(ish)                Light Dinner
Sunday –
6:00 – 8:00 am     Kriya Meditation (open to Kriyabans only)
8:30 – 9:30            Breakfast in Silence
10:00 – 11:00         Purification Service (Open to All)
11:00 – 12:30          Festival of Light Service (Open to All)
12:45 – 1:30 pm      Lunch
Teacher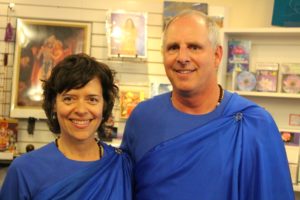 Nayaswamis Daiva and Gangamata
Nayaswami Daiva has spent his adult life studying, practicing and sharing the timeless teachings of Self-realization, as taught by Paramhansa Yogananda. He has lived within an Ananda community since 1985, enjoying the friendship, support and inspiration found through living with other like-minded individuals. Daiva has spent the years exploring the…
Learn more about Nayaswamis Daiva and Gangamata