Soul Wisdom Intuitive Painting WORKSHOP
With Dana Lynne Andersen
April 1 - 2, 2017
Your soul has messages waiting for you…
Learn how to perceive the wisdom of your soul revealed through your own creative expression.
First you will be guided in an intuitive painting method that allows you to create with freedom and authenticity.  You will learn how to easily enter a peak state of flowing creative expression. No talent or experience is required.
Lovingly guided into a place of  heightened inner awareness, you will discover that what you bring forth from within is the medicine you need. Working with the images that come forth from within, you will learn the 'native tongue' of your own language.
Experience the JOY and WISDOM of your own SOUL!
*NOTE:  This weekend workshop is followed by a 5 day retreat which may be taken as an optional extension of the weekend.
SCHEDULE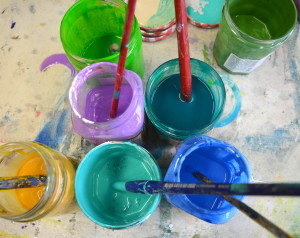 SATURDAY
10am        Morning Session         Breaking through the Barriers
12:45pm  Lunch
2-6pm      Afternoon Session      Liberating Your Authentic Expression
6pm         Dinner 
8pm         Evening Program         Movie  "The Fire Within"
SUNDAY 
6:30am   Optional Yoga, Energization & Meditation
8am         Breakfast
9am         Sharing Circle
10am       Morning Session          Following Your Own Intuitive Flow
12:45pm  Lunch
2-5pm      Afternoon Session       Receiving and Following Soul Guidance
5pm         Closing Circle
NOURISHMENT  Our classroom always has an abundance of scrumptious snacks as well as tea & coffee throughout the day on Saturday/Sunday!
MEALS & LODGING  The Green Hill Cafe provides delicious vegetarian meals.  If you are an overnight guest from Saturday to Sunday, they are included (lunch & dinner on Saturday and Sunday breakfast and lunch).However, if you are coming as a "program tuition only" student, only lunch is included.  You are welcome to pay $10 extra if you wish to stay for dinner Saturday night.